Niss
an Puts the Glam in

Electric Vehicles!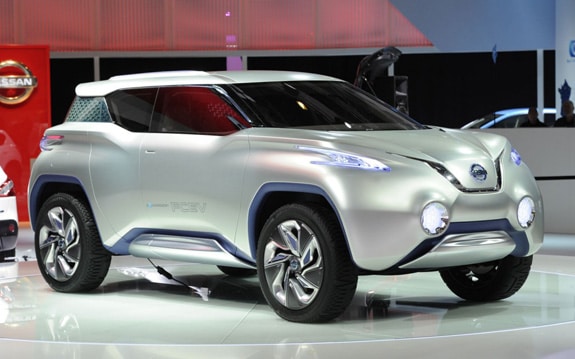 The innovative Nissan LEAF, the worlds first mass produced all-electric vehicle is breaking sales records, but for Nissan, the LEAF is just the beginning! What's next? Possibly the Nissan TeRRA EV! The Nissan TeRRA is an urban SUV featuring the 107-hp electric motor from the Leaf powering the front wheels and two in-wheel electric motors pulled from the PIVO concepts in each of the rears. The use of in-wheel electric motors saves the vehicle from the weight of rear half-shafts, but also does away with the need for a hump in the cabin floor to accommodate said shafts. The powerplants are fed by a hydrogen fuel-cell stack located under the hood, featuring power density of 2.5 kW per liter. Nissan claims this powertrain generates enough oomph to facilitate on- and off-road behavior. Things don't get any less complicated once inside. Rather than a traditional instrument panel, the TeRRA gets a dock where a traditional instrument panel normally would go. To be docked when you get into the vehicle is a tablet, which defaults to display speed and other indicators you'd expect from a gauge cluster but can be toggled to entertainment, communications, navigation, and other functions. Once departing the vehicle, the tablet can be taken from its dock and perform just like any other iPad.
Perhaps more perplexing is the seating layout in the TeRRA. The driver is seated nearly in the center of the car with the passenger seat next to and slightly behind the driver with the rear seats following the pattern. The diagonal layout, according to Nissan, provides the driver with "exceptional visibility" and "allows all passengers to share the vision of adventures up ahead." The rear and passenger seats can be folded completely flat-thanks again to the in-wheel electric motors creating a completely flat cabin floor-allowing for easy loading of bikes, kayaks, or even flat-pack furniture "from Scandinavia." The rest of the interior features a mixture of wood, acrylic, and metallic trim. Blond and beech wood meld with acrylic on the dash and door panels, while metallic accents are abundant, but none more so than the metal frame ringing the cabin at shoulder height.
Nissan says that the TeRRA is nothing more than a concept car, but that the Japanese brand could mass-produce fuel-cell EVs whenever hydrogen becomes widely available.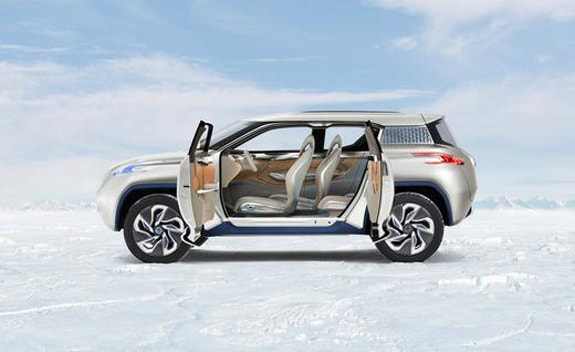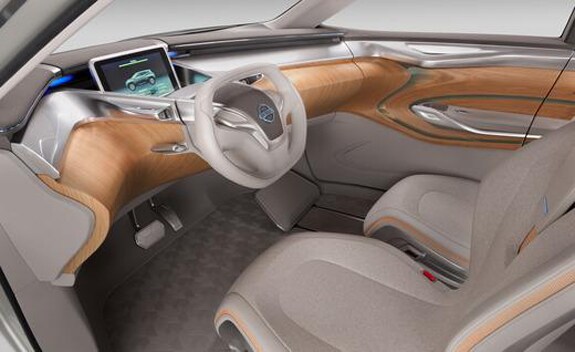 Photo credit http://www.caranddriver.com/photos-12q3/474113/nissan-terra-concept-interior-photo-474120