Two Nissan-Powered prototypes grab top 10 finishes at rolex 24 at Daytona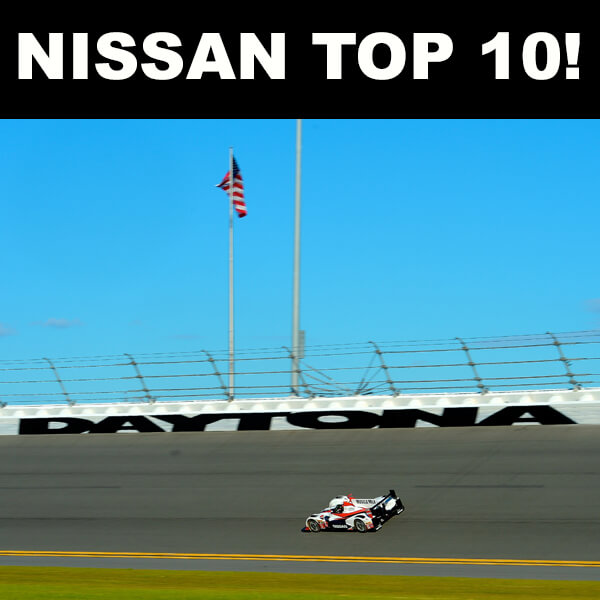 DAYTONA, Fla. – Lucas Luhr, driver for Muscle Milk Racing, knows well that winning championships is a year-long marathon. Given that the toughest test of the year is the Rolex Daytona 24 at Daytona, he is happy with a hard-earned fifth place for his Nissan-powered Oreca team of Luhr, Klaus Graf and Alex Brundle. The Muscle Milk ORECA-Nissan car was first among the P2-type cars entered.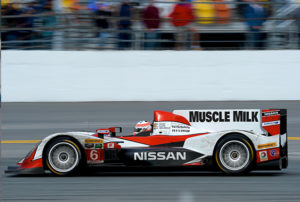 "I have to say that I'm proud of our guys. It's a brand new package, brand new car, it was the first 24-hour race for this team, and to finish it, it was a good thing," said the four-time ALMS champion. "The car ran mostly trouble free and we finished only three laps down after 24 hours, and that's impressive."
The team qualified sixth, fastest of the P2 cars and behind five Daytona Prototypes –cars well suited for the full throttle racing at a superspeedway course. The car ran suffered two punctured tires early, dropping them back to 40th position after an hour.
By hour six, the Muscle Milk Oreca-Nissan was back in the top ten, pushing into seventh by midnight. By daylight, the Pickett team was a top five car, behind only Daytona Prototypes. Through the morning, the team ran between sixth and fourth, and with just three hours left, Klaus Graf took the wheel in fifth. Graf could not make up the lap he trailed on the Corvette DP car in fourth, and he brought the car home safely – still running strong.
French entry OAK Racing's Morgan-Nissan ran in the top 10 for five hours until an alternator failed and dropped them all the way to 55th position overall as the car underwent work in the garage. By daylight the OAK Racing car driven by Pla/Yacaman/Rusinov/Webb was in 14th, picking off slower cars and making up laps. With three hours remaining, Gustavo Yacaman had the car up to 11th, knocking on the door of an overall top 10.
With a furious finish by Yacaman, the Morgan-Nissan came home eighth overall and sixth in class, garnering valuable points to move forward to tracks better suited for the P2-style race cars. OAK Racing plans to contest the full season TUDOR Championship.
"It has been a battle," said Pierre-Alain Bouhet, Team Manager for OAK Racing. "We were knocked back in qualifying by a (electronic) wiring loom issue, but we knew from practice we were one of the top six fastest cars.  Then the alternator failed in hour six, which put us almost on the bottom. It's been a real fight to get back where we did in the end, so I'm pleased with the effort."
The teams move on to the Sebring 12 Hours March 14-15, then the Long Beach Street Circuit April 12.