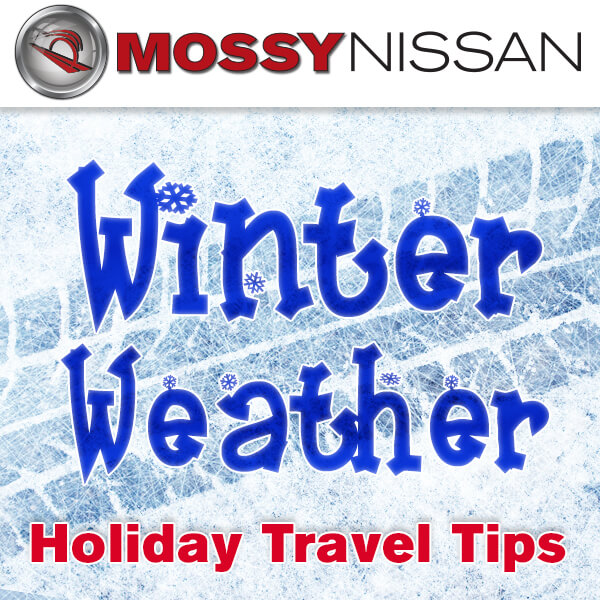 Here are a few tips to help you stay safe on the roads if you are traveling to "not so nice" weather destinations this winter:
GOOD TIRES:
Tires are the number one factor in winter driving safety. When was the last time you had your tires replaced? If it was recently, have you been getting them rotated regularly? Many people forget to get this done, which means these so-called "new" tires are wearing unevenly and could actually be unsafe. Make sure you visually inspect your tires for uneven wear, and loss of tread. Better yet, have a professional inspect them! Balding tires do not grip the road effectively and they increase your breaking distance substantially - especially in wet or icy road conditions. Remember: Worn out tires aren't safe on dry pavement, but they are downright dangerous on rainy, snowy or icy roads. Be sure to get those tires inspected, rotated, and replaced if necessary right away! You can always make an appointment at your local Mossy Nissan service center - for any service needs!
SURVIVAL KIT:
Planning a road trip to go skiing or snowboarding? Make sure you have a winter survival kit in your car in case things don't go as planned! It only takes a few minutes to gather most of these items and they could save your life!
Make sure to include:
Blankets, socks, hats, mittens to keep you and your passengers warm
A source of heat like a can heater or multiple wick candle
don't forget matches or a lighter!
Water and a metal container suitable for melting snow into drinking water
Food - such as hard candy, energy bars, nuts and raisins
Bright red or orange cloth and whistle to signal for help
An AM/FM radio plus a flashlight - both with new batteries!
ROAD NEEDS:
A shovel, a good spare tire, jumper cables, tire chains, road flares and a small tool kit can become your lifesavers if a bad situation comes around!
SAFETY TIPS:
If your car gets stuck in snowy conditions, and you need to keep your car running for heat, make that your exhaust pipe is not blocked off by snow! Run the engine and heater for 10 minutes every hour depending on the amount of gas in your tank. If there is heavy snow or sleet coming down, keep one window slightly open so you don't get sealed inside your car!
Mossy Nissan can help you get ready for these holiday trips with a FREE winter car care inspection, a winter car care package, or a 27-point inspection here. We want all our drivers to be safe this season, and we hope this helps those of you traveling to snowy climates. We wish you a safe holiday season this year!
Source: http://www.mossynissan.com/blog/2012/december/4/winter-car-care-tips-san-diego.htm