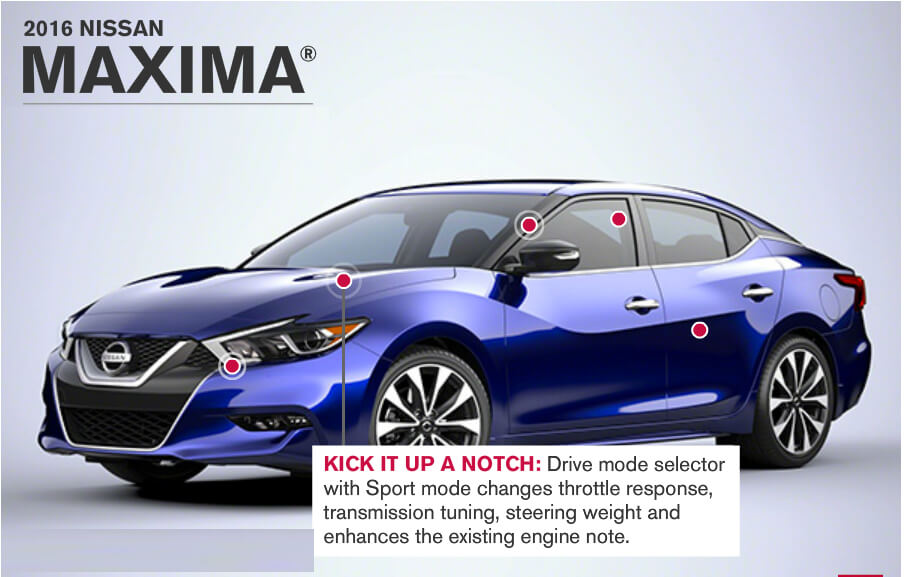 NASHVILLE, Tenn. – WardsAuto has named the 2016 Nissan Maxima's new 3.5-liter VQ-series V6 engine to its annual "Wards 10 Best Engines" list for 2016, a prestigious honor that has been a staple in the automotive industry since it first began in 1994. The honor marks Nissan's 17th Wards 10 Best Engines trophy and the auto company's 15th for the VQ-series V6, the most awarded engine in 10 Best Engines history. The Maxima's 300-horsepower 3.5-liter V6 engine will be honored at the Wards 10 Best Engines banquet on Wednesday, January 13, in Detroit.
In selecting this year's winners, WardsAuto editors spent October and November evaluating 31 all-new or improved powertrains available in vehicles on sale in the U.S. with a base price under $61,000 for 2016. No instrumented testing was involved – simply driving to and from home, work, school, and everyday activities. Factors considered include horsepower, torque, comparative specs, noise attenuation, fuel economy and the application of new technology.
"When the 2016 Maxima hit dealerships in May, our team believed this redesigned 3.5-liter V6 engine would be an important piece of the puzzle,"said Pierre Loing, vice president, Product Planning, Nissan North America, Inc. "To be included in Wards 10 Best Engines list is a tribute to the outstanding design, performance and value of our new-generation Nissan Maxima flagship sedan. We thank everyone at Wards for this significant recognition."
The guiding principles for the competition have remained consistent over the years: "Does the engine or electric propulsion system truly sell the car or raise the bar for its competitive set?"For Maxima, the answer was a resounding "Yes,"with editors specifically noting the 3.5-liter VQ-series V6's 61 percent new parts, reduced friction and weight, and new intake manifold (versus the previous generation design) among key factors in the Maxima's inclusion on this year's list. The engine applies lessons learned from the legendary GT-R, such as sodium-filled valves, to meet the needs of the higher compression ratio and combustion temperatures.
"The VQ, in displacements ranging from 3.0L to 3.7L, won 14 straight trophies between 1995 and 2008. This year, it returns with a significant overhaul,"said Tom Murphy, senior editor, WardsAuto.com. "Like the 3.0L that dazzled us in the Maxima in 1995, the improved VQ makes for light, lively and refined power delivery, and the sterling midrange torque is still there. And we can't recall ever getting 30 mpg from this engine long ago."
Now in its eighth generation, the 2016 Maxima takes the name-plate's cutting edge design, performance and innovation leadership to its highest execution ever. At the heart of this newest generation "4-Door Sports Car"is its completely revised 300-horsepower 3.5-liter VQ-series V6 engine and new performance-oriented Xtronic transmission.
Along with a high specific output (HP/L) of 85.7 horsepower/liter, the revised engine also offers a 15 percent increase in highway fuel economy to 30 miles per gallon. The new, performance-oriented Xtronic transmission features a wider ratio range, which allows for stronger acceleration from a standing start and an all-new D-Step shifting logic that provides rapid shifts at high throttle openings.
The new 2016 Maxima also embodies the latest Nissan design language and projects a distinctive upscale look through its unique combination of a lower profile and a wide stance, bold front end, Nissan signature V-Motion grille and floating roof appearance. The new Maxima also features a premium-crafted interior, anchored by a command central fighter jet-inspired driver's cockpit that rivals luxury vehicles.
Maxima's next-generation technology features include standard NissanConnectSM with navigation and available 11-speaker Bose® premium audio system, NissanConnect Services powered by SiriusXM® (SiriusXM® subscription required, sold separately) and Around View® Monitor (AVM) with Moving Object Detection (MOD).
The 2016 Maxima also offers an extensive range of available safety, security and driving aids, including Predictive Forward Collision Warning (PFCW), Intelligent Cruise Control (ICC), Forward Emergency Braking (FEB), Rear Cross Traffic Alert (RCTA), Blind Spot Warning (BSW) and Driver Attention Alert (DAA) system*.
The 2016 Maxima is available in five well-equipped models (all equipment is grade standard, no available options): Maxima S, SV, SL, SR and Platinum. It is assembled in Smyrna, Tennessee, with engines assembled in Decherd, Tennessee.
Some of the Class of 2016:
3.5L DOHC V-6 (Nissan Maxima)
3.6L DOHC V-6 (Chevrolet Camaro/Cadillac ATS)
5.2L DOHC V-8 (Ford Shelby GT350 Mustang)
3.0L Turbocharged DOHC I-6 (BMW 340i)
GET YOUR OWN NEW 2016 MAXIMA NOW! Visit any one of seven local San Diego Mossy Nissan's and Drive Better for Less! or SHOP ONLINE NOW
CREDIT: http://nissannews.com/en-US/nissan/usa/releases/all-new-nissan-maxima-engine-named-to-wards-10-best-engines-list-for-2016