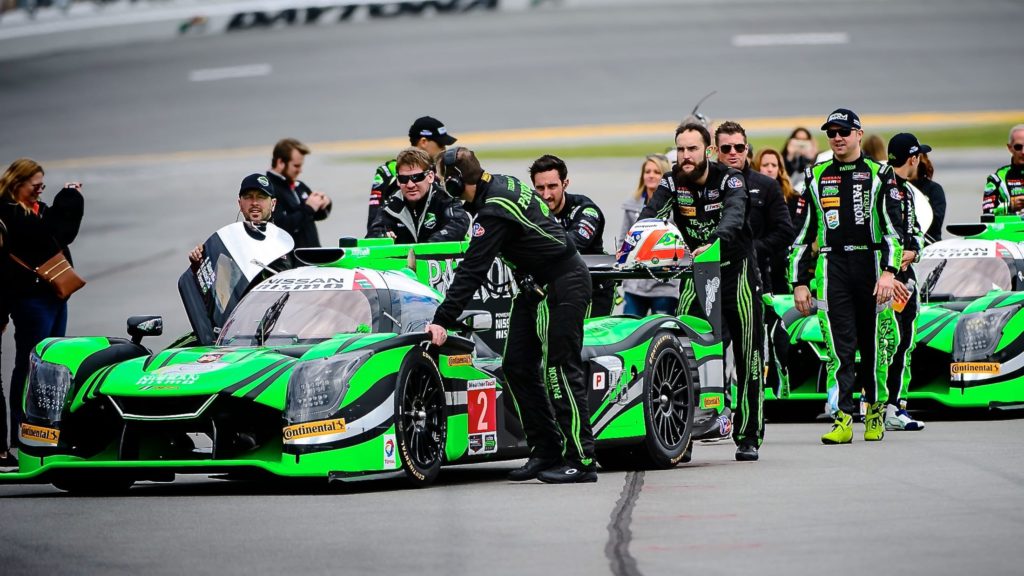 DAYTONA, Fla. – Nissan engine customer team ESM showed impressive pace in its debut at the Rolex 24 at Daytona, with the team scoring fourth and seventh place finishes in the opening round of the IMSA WeatherTech SportsCar Championship.
While the team got both cars to the checkered flag, the potential for an even stronger result was clearly demonstrated during the night hours of the race, which was hindered by heavy rain.
Brendon Hartley charged the No. 22 car into the race lead during the night hours. However, on his out lap, a GT car made contact with the Nissan Onroak Dpi, putting the car into the wall.
Quick work by the ESM crew got them back into the race, but Hartley, Ed Brown, Johannes van Overbeek and Bruno Senna had to settle for a seventh place finish – 23 laps down on the leaders.
The No. 2 car – of Pipo Derani, Ryan Dalziel and Scott Sharp – ran a strong race, but it just finished off the podium in fourth place in the debut of the new Daytona Prototype International premier class in the IMSA series.
"We are all very happy to finish this race," said Derani.
"The fourth place comes with a small taste of victory for us, considering our product is very new. To be able to finish this race is more than we could possibly imagine yesterday, or even a few days ago.
For the first race of the new Nissan Onroak DPi, I am very proud of the team, of Nissan and everyone involved. I wanted to thank them all for their great support, and we look forward to getting better from here and on to Sebring."
The team will now set its sights onto the second round of the championship, the 12 Hours of Sebring in Florida on March 18.
Bathurst 12 Hour, Mount Panorama, Bathurst, NSW, Australia
12 Hours of Sebring, IMSA WeatherTech SportsCar Championship