Cars.com ranks our Nissan Sentra the most affordable compact sedan!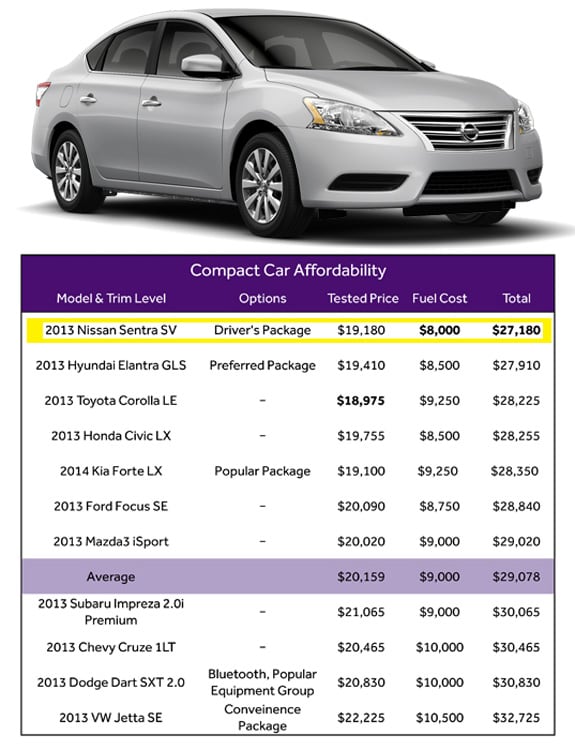 Looking for the best value in compact sedans? According to Cars.com, you'll find it in our new 2013 Mossy Nissan Sentra! Sentra is one of our top sellers here at Mossy Nissan. Come find out why San Diego Nissan buyers have been recommending the Sentra to friends and family.
Here's the full article from Cars.com:
Car shoppers want a long list of features in a new car, even if that car is a compact sedan that starts around $16,000. That starting price usually doesn't include what many consider "must-have" features - chief among them an automatic transmission. We took 11 compact sedans and looked at their prices when equipped with the following features:

Automatic transmission

Cruise control

USB input

Remote entry

Tilt/telescoping steering wheel

Steering-wheel audio controls
It may seem like a simple search, but if you're looking at a new Nissan Sentra, Dodge Dart or Volkswagen Jetta, you'll need to know the specific trim level, options and option packages to ensure you won't regret not having that one missing feature.
We took those as-equipped prices and then added five years of fuel costs to come up with the most affordable compact sedan on the market.
Having recently purchased our long-term Honda Civic that has all of these features in a base model, we thought it had a good shot of scoring well here. But the results were somewhat surprising, especially in terms of what car was No. 1.
Nissan's redesigned 2013 Sentra comes out on top. It wasn't easy to get all the options we wanted on the Sentra. First, you must choose the SV trim level and then the Driver's Package; many competitors deliver them in a specific trim level without the need for options. Configured like this, the as-tested price was actually higher than the Toyota Corolla and Kia Forte. But it bested those two thanks to segment-leading fuel costs.
We originally ran these calculations before Nissan announced a price reduction on the Sentra and other models last week. It still came out on top before the announcement, but the gap widened from a mere $90 to $730 between the Sentra and the next most affordable car, the Forte.
>Read the full review of the 2013 Nissan Sentra
Credit:
http://blogs.cars.com/kickingtires/2013/05/whats-the-most-affordable-compact-sedan.html
>See for yourself! Check out our giant inventory of new Nissan Sentras right now!