THE NEW 2014 ALTIMA MAKES THE TOYOTA CAMRY AND HONDA ACCORD GREEN WITH ENVY!

Look out San Diego, The new 2014 Nissan Altima will launch later this month! This ravishing road warrior is making the critics applaud and the competition sweat! Check why this bold new beauty is turning heads!



WE MADE A BIG DEAL, EVEN OF THE LITTLE THINGS
Detailed. Right down to the details.
Chrome's appeal lies in its deeply reflective qualities. Even distant objects look as sharp reflected in chrome as they would if you were looking at them directly. A fine point admittedly, but it shows you how much thought we put into even the smallest details, starting with our badge. Just wait 'til you see what we did to the rest.
PREMIUM SPACE. PREMIUM SPACIOUSNESS.
Luxury interior design.
We softened the edges, sculpted the lines and took the idea of open space inside. Then we quieted everything down. The result - a serene cabin of unexpected spaciousness and luxury, where premium materials combine to create an atmosphere of class that is simply a class above.
PERFORMANCE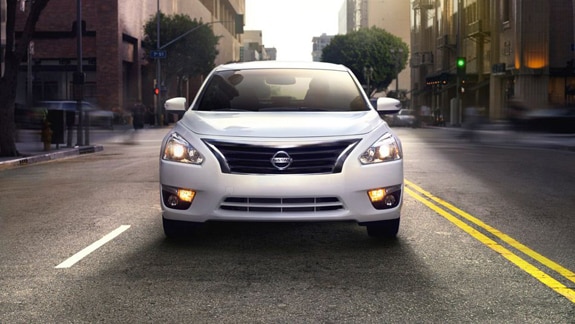 GO. OR JUST GO FARTHER.
Outstanding acceleration. Incredible efficiency.
You've got choices. You can go with Nissan's legendary 3.5-liter, 270-hp V6 that treats you to sports-car style performance even while it sips fuel at an impressive 31 MPG on the highway. [*] Or you can go with the class-leading 38 MPG highway provided by the spirited 182-hp 4-cylinder.
NEXT-GENERATION XTRONIC CVT®
The Altima's CVT virtually eliminates gears by using a single metal belt that runs around a pair of variable-diameter pulleys. Once a transmission isn't limited by fixed gears, it can operate far more effectively. So whatever your right foot asks for, CVT responds with the perfect engine speed.
ALTIMA LOVES CORNERS...
Active understeer control
Altima's Active Understeer Control system sets even the sharpest turn straight. It works by braking the inside wheels for better control through corners for a more confident feel behind the wheel.
370Z CORNERS...
Redesigned rear suspension
Altima's 370Z®-inspired multilink rear suspension has been designed to deliver instant steering response and maximum tire contact for handling that'll tackle the passing lane as easily as the carpool lane.
EUROPEAN LUXURY CAR CORNERS
ZF Sachs shocks
Altima comes equipped with ZF Sachs shock absorbers. You know, like the ones found on luxury cars from BMW, Mercedes-Benz, Porsche... Yeah, those ones.
PERFORMANCE RIPPED
Lighter. Faster. Stronger.
We gave Altima class-leading highway fuel economy [*] and powerful acceleration. How did we do it? We put it on a diet. The engine, body, and chassis are all lighter, and we slimmed down the aerodynamics. The result-hit the gas and Altima will propel you from 0-60 faster than you can say "hang on".
PUREDRIVE™
Altima is one of a select group of Nissan vehicles to wear the PUREDRIVE™ badge. PUREDRIVE™ is a key part of our commitment to achieve lower levels of CO2 emissions. The technology focuses on improving fuel efficiencies and reducing CO2 emissions. And that's something we all can smile about.
STREET SMARTS
Intelligent technology
What if your car could tell you when its tires had enough air? If it warmed itself up or cooled itself down for you without you even being there? Or turned on the headlights automatically in the rain? Would you call it smart, or simply brilliant?
CLEVER, RIGHT DOWN TO YOUR COCCYX
Zero Gravity Seats
NASA research determined the posture astronauts naturally take in the weightlessness of space. Nissan Engineering used this research to develop front seats that optimize comfort and reduce fatigue. Thanks for the tip guys.
TECHNOLOGY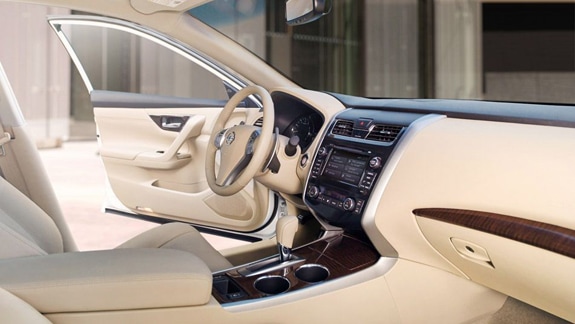 NEVER LOSE SIGHT OF WHAT'S IMPORTANT
Advanced Drive-Assist® Display
From optional turn-by-turn navigation, to caller ID, the Advanced Drive-Assist® Display does it for you in one central location. It's specially designed to make it easy for you to get info quickly, allowing you to focus on what matters most-driving.
CONNECTED TO MORE THAN THE ROAD
NissanConnect™ uses hands-free technology, your smartphone, and your Nissan's display screen to help you stay in touch with the outside world from inside your vehicle. It's loaded with features and a growing list of apps that let you play your music, keep tabs on your social network, and navigate any city like a local.
NOW, EVEN TRAFFIC JAMS HAVE A FAST LANE
SiriusXM Traffic
Take the road less travelled. Literally. SiriusXM Traffic gives you traffic updates, suggesting alternate routes that help you avoid delays due to roadwork, accidents, or pesky congested highways.
FRONT-ROW SEATS TO MUSIC YOU ?
iHeartRadio for Auto (Late availability)
It's got all that jazz, country, rock, urban, and pop... Access over 1,500 live stations from coast-to-coast, or create your own station based on your favorite artist. With the Discovery Tuner, customize the level of variety you want. Listen to new music, play only songs you know and love, or get a bit of both.
TALK FOR A MILE, A MINUTE, OR MORE.
Hands-Free Text Messaging Assistant
Want to reply to a text message? No need to reach for your phone. The Hands-Free Text Messaging Assistant keeps you connected through voice recognition technology. [*] So just talk to send a text, or use the available Bluetooth® Hands-free Phone System to make a call without diverting your attention.
ALTIMA'S GOT YOUR BACK...
Safety Shield Technologies
Altima includes over 50 safety features specifically designed to take care of you. Standard air bags, six of them, are there to help protect everyone on board. [*] No one could forget the kids, so every Altima includes the LATCH System (Lower Anchors and Tethers for Children) for easier child seat installation.
...AND READY TO LIGHT THE WAY FORWARD.
Enhanced headlights
Automatic headlights respond to light conditions outside. And if your wipers are on so are the headlights - automatically after 4 swipes. Illuminated driving courtesy of Altima.
Your exclusive pass to your Altima
The Nissan Intelligent Key lets you tap a button on the door handle or trunk to unlock them while your keys stay in your pocket or purse. And the available Remote Engine Start System [*] lets you warm up or cool down your Altima before you get in.
Want to get your own New 2014 Nissan Altima - Visit your local San Diego Mossy Nissan Dealer or contact us for more information.
CREDIT: http://www.nissanusa.com/cars/altima/features/