Fun Fact Friday: How much horsepower does the 2015 Nissan GT-R come stock with?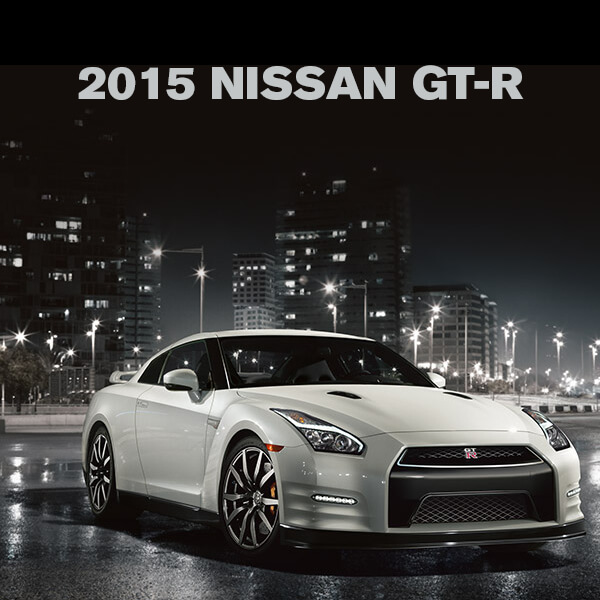 Answer: 545 horsepower!
Read More
2015 Nissan GT-R NISMO
With 600 horsepower on tap - a 55-horsepower increase over non-NISMO spec GT-R models - and exclusive racing-inspired body, interior and powertrain treatments, the GT-R NISMO sets the tone for the entire 2015 Nissan GT-R lineup: Never stop improving.
2015 GT-R NISMO sets new performance standard for legendary Nissan supercar with 600 horsepower, Nurburgring-developed suspension
New extreme iteration of Nissan GT-R supercar joins GT-R Premium and GT-R Black Editions*

Offers 600-horsepower high-capacity turbocharged 3.8-liter V6, enhanced aerodynamics and unique NISMO suspension tuning

Becomes fourth NISMO-badged vehicle in Nissan lineup, along with 370Z NISMO, JUKE NISMO and JUKE NISMO RS
If ever there was a vehicle designed to explore the upper limits of performance, the Nissan GT-R has, throughout its history, been it. And while by its very nature evolution never stops, the advancement of Nissan's iconic supercar has established a new high point in the form of the 2015 Nissan GT-R NISMO*.
Bearing the name of Nissan's legendary motorsports and performance group for the first time, the GT-R NISMO is without question the flagship of both GT-R and NISMO – as well as the entire Nissan brand.
Available in very limited numbers in North America, the 600-horsepower***** GT-R NISMO joins the established 2015 GT-R Premium and GT-R Black Edition vehicles. These models all receive a range of important enhancements for 2015 – giving GT-R a more refined look and feel, without sacrificing one bit of its legendary performance. For full information on the entire 2015 Nissan GT-R line, please see NissanNews.com.
The GT-R NISMO model itself was inspired by a NISMO-prepped GT-R racecar that competed successfully at the 2012 Nurburgring 24-hour endurance race in near production form. And, as proof of concept, in late October 2013, a "time attack" GT-R NISMO** was driven to a new volume production car and Nissan GT-R Nurburgring record of 7 minutes, 8.679 seconds around the famed road course.
Not surprisingly then, while the refinements to the 2015 GT-R place an emphasis on balancing speed with the total driving experience, the new GT-R NISMO places a stronger emphasis on the "R" – as in racing – of the GT-R name. A quick glance at the GT-R NISMO specs shows how:
An additional 55 horsepower and 18 lb-ft of torque

A NISMO-tuned suspension with reduced weight and additional roll stiffness

The addition of adhesive bonding (in addition to spot welding) for increased body shell rigidity

NISMO-tuned aerodynamic exterior elements designed to increase downforce, including carbon fiber trunklid and spoiler, carbon fiber front and rear bumpers and lower front undercover

Ergonomically sculpted Recaro® front bucket seats

NISMO racing-style Alcantara®-trimmed three-spoke steering wheel with red center mark, designed to provide the best combination of feedback, grip and comfort
Innovative, Uncompromising Engineering
The 2015 Nissan GT-R NISMO employs innovation, uncompromising engineering and motorsports-inspired technologies to achieve new levels of power, speed and handling. Under the hood, the 3.8-liter V6 VR38DETT engine benefits from the expertise that NISMO has gained from participating in motorsports events around the globe. Engine power has been increased (versus standard GT-R models) and is now rated at 600hp and 481 lb-ft of torque*****. New high-flow, large diameter turbochargers, used in GT3 competition, improve breathing, while optimized individual ignition timing control for each cylinder and upgraded fuel pump improve combustion.
As with all 2015 GT-R models, each GT-R NISMO engine is hand-assembled from beginning to end in a special clean room by specially trained technicians, a process similar to racing powerplant construction. An aluminum plate is added to the front of each engine showing the name of the "Takumi" engine craftsman.
The engine features innovative plasma-sprayed bores (versus cast iron liners) for reduced friction, lighter weight, enhanced cooling, power output and fuel efficiency; a symmetrical independent intake and exhaust manifold system featuring twin NISMO-specific high-performance IHI turbochargers; a secondary air management system for improved cold-start emissions performance; a thermostatically controlled oil-cooling system; an oil scavenger pump to maintain oil flowing to the turbochargers; and a lateral wet and dry sump oiling system. The GT-R NISMO's fuel economy is rated at 16 mpg city and 23 mpg highway.
A special factory tuned Titanium exhaust system is optionally available. The system is made of Formula 1 race car grade titanium (Ti-1Cu), with its alloy construction generating a high strength-to-weight ratio and delivering a weight savings over the stock exhaust unit – along with a clear sound that is unique to titanium. The system offers reduced thickness, integrated fins and undercover ducts, allowing it to endure high temperatures without affecting performance under extreme driving conditions.
The VR38DETT V6 is backed by an advanced paddle-shifted sequential 6-speed dual clutch transmission, which can be driver selected to shift at race car-like speeds. The sequential-shifting transaxle features separate wet clutches for the odd (1,3,5) and even (2,4,6) gears and pre-selects the next highest and next lowest gear for quick shifts.
It also features Hill Start Assist for easy starts on uphill inclines. High performance differential oil, used in GT-R motorsports competition, is standard.
Along with Nissan GT-R's unique Premium Midship platform, the GT-R NISMO utilizes an independent rear transaxle ATTESA E-TS all-wheel drive system, which optimizes weight distribution and handling capability. The rear drive-biased system can vary torque split from 0:100 to 50:50 depending on speed, lateral acceleration, steering angles, tire slip, road surface and yaw rate.
Of note is a special GT-R-specific yaw-rate feedback control, which measures the differences between the target yaw rate calculated from steering angle and actual yaw rate detected by the yaw-rate sensor and G sensor to adjust torque bias.
The Premium Midship Platform layout places the transmission, transfer case and final drive at the rear of the vehicle, without the use of traditional torque tubes, allowing the suspension to operate independently and optimizing tire grip at each corner. Contributing to overall vehicle balance and low center of gravity, the unique offset input and reaction shaft design of the rear transaxle enables a shorter design profile versus a typical manual transmission, moving the concentration of powertrain weight lower in the vehicle.
The GT-R NISMO's suspension set-up is inspired by that of the NISMO racing GT-R and tuned for stunning agility, road holding and handling finesse, without compromising refinement. The springs and custom-developed Bilstein DampTronic dampers in the front and rear suspension are specially tuned to deliver exceptional grip levels and progressive handling response at the limit. Three suspension modes can be selected: Comfort, Normal and R, for circuit applications.
Specially developed links fitted to the front double wishbone suspension increase castor trail to optimize wheel position during high-G cornering and improve straight-line and cornering stability.
Additionally, large high-rigidity bolts are used to increase stiffness of the wheel-hub attachment area. To minimize body-roll during cornering and changes of direction, the Nissan GT-R NISMO features a 17.3 mm hollow rear anti-roll bar, which raises roll stiffness while reducing weight.
Increased rigidity in the body shell is achieved using adhesive bonding in addition to spot welding leading to precise suspension response under extreme load – another NISMO "factory tuned" enhancement.
The rigid forged metallic black 6-spoke RAYS® forged lightweight aluminum 20-inch wheels, manufactured by RAYS®, are inspired by Nissan's legendary GT500 racecar. They feature knurling inside the wheels to help keep the tires from slipping around the wheels under heavy acceleration or braking.
The GT-R NISMO's tires – developed by Dunlop with a NISMO-specific compound – exhibit outstanding grip and handling characteristics. The front tires are 255/40 ZRF20, with 285/35 ZRF20 in the rear.
Exclusive Styling with Improved Aerodynamics
Using the latest Computational Fluid Dynamic simulation techniques to analyze airflow, NISMO developed an aero package for the GT-R NISMO that improves road holding and minimizes the negative impact of drag, while giving the car a more menacing and muscular appearance.
Together, the front bumper, engine undercover and carbon rear spoiler increase downforce, lowering the center of gravity and generating an additional 220 pounds of downforce (at 185 mph) compared to the standard 2015 GT-R models. The car's aerodynamic characteristics are tuned to ensure the downforce is equally spread front to rear at all speeds for progressive handling characteristics. A widened front bumper configuration and elongated yet tapered rear bumper design keep the drag to Cd 0.26, same with that of standard Nissan GT-R.
The GT-R NISMO's handmade dry carbon rear spoiler features a special coating that allows carbon fiber "weave" to be felt by the touch. The lightweight dry carbon fiber material* is also incredibly strong.
The GT-R NISMO shares significant updates to the GT-R's lights for 2015, enhancing its visual impact. The new efficient High Intensity Discharge (HID) multi-LED headlights create a distinctive GT-R "lightning" motif, generating a bold exterior visual signature. The four LED units are configured with new LED high beam and three different low beams, including long distance illumination and wide illumination.
At the rear, GT-R's distinctive four-ring taillight signature now forms coherent circles of illumination, giving the GT-R an equally distinctive rear appearance. Upon start-up, the full new lighting signature is illuminated, creating a dramatic start-up procedure.
The Nissan GT-R NISMO will be available in five body colors: Jet Black, Solid Red, Pearl White, a limited production 4-stage metallic Super Silver and unique to the GT-R NISMO model, a low-gloss Matte Gray, which accentuates the car's imposing exterior muscularity. As expected, GT-R's advanced technology is present even in the vehicle's paint, which utilizes a durable anti-chip paint and "double clear coat" process.
A Racing-Inspired Cockpit
The Nissan GT-R NISMO cockpit inspires driver confidence through both its craftsmanship and optimized driving position. Ergonomically sculpted, heated, reclining RECARO® seats comfortably, yet firmly, support the driver and front-seat passenger.
NISMO racers influenced the design of the steering wheel, which is dressed in Alcantara®, with three spokes, red center mark and red stitching to give the best combination of grip, feedback and comfort. The combi meter has carbon-like finish, and tachometer features a red design. The meter hood is also dressed with Alcantara®. Interior trim features include discreet red stitching on the seats, center console, door trim and steering wheel.
As with all 2015 GT-R models, the GT-R NISMO's instrument panel is dominated by a video game-inspired, multi-function display that was created in collaboration with Polyphony Digital, makers of theGran Turismo electronic game. Eleven pages of information are available on this system, including mechanical and driving information, acceleration, brake pedal pressure, steering angle and a recording function with playback. Additional on-screen information includes a Navigation system and Bluetooth® Hands-free Phone System. The navigation system includes NavTraffic Real-Time Traffic Information and NavWeather capabilities (SiriusXM subscription required, sold separately).
All 2015 GT-R models include a specially designed, 11-speaker Bose® audio system that features two forward-facing woofers in the rear center armrest area. Rigid aluminum die cast panel mounting of all speakers allowed Bose® engineers to perfect the acoustical performance of the GT-R sound system. Streaming Audio via Bluetooth® is also standard.
Standard GT-R NISMO safety equipment includes a Nissan Advanced Air Bag System for driver and front passenger, front seat-mounted side-impact supplemental air bags for driver and front-passenger and standard roof-mounted curtain side-impact supplemental air bags for front seat occupant head protection – along with front seat belts with pretensioners and load limiters and three-point ELR/ALR rear seat belts.
One Exclusive Model
The 2015 Nissan GT-R NISMO is available in one limited edition model with just one available option, the Titanium Exhaust System. It is assembled in Tochigi, Japan, with the engines hand-assembled in Yokohama, Japan.
CREDIT: http://nissannews.com/en-US/nissan/usa/presskits/us-2015-nissan-gt-r-nismo-press-kit
Read More
2015 Nissan GTR Archives - Mossy Nissan El Cajon