According to a recent survey(1) almost six in ten respondents blame blind spots for accidents or near-collisions. Luckily, for 2013, Nissan developed not one, but three advanced technologies help Altima drivers avoid a collision: Blind Spot Warning, Lane Departure Warning and Moving Object Detection. These three features, usually reserved for more expensive vehicles, take advantage of Altima's redesigned, next-generation RearView Monitor. A new wide-angle rearview camera, mounted in the license plate area, offers an expanded rear view so no extra sensors are needed to provide these additional capabilities. (These three innovations are available on Altima 2.5 SL and 3.5 SL as part of the Technology Package.)  Today, let's look at Blind Spot Warning Feature and how it compares to Honda's LaneWatch system.          
Nissan's Blind Spot Warning uses the Nissan Altima's wide-angle rearview camera and advanced image processing technology to scan the vehicle's blind spots. It alerts the driver with audible and visual warnings if there is a vehicle in a blind spot area.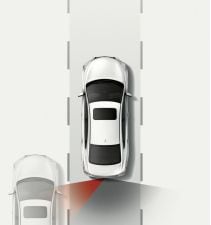 The Honda Accord, in comparison, uses two separate systems to provide driver protection. Unlike the Nissan Altima, neither of these two systems provide the visual or audible warning that alert the driver that a vehicle is the blind spot.
            The first system is Honda's LaneWatch camera. Unlike Nissan's wide-angle view monitor, which is mounted in the rear of the car, Honda's LaneWatch™" camera is mounted only on one side of the car-on the passenger-side outside mirror to display an expanded rear view. Honda designed LaneWatch™ to activate ONLY when the right turn signal is activated or a button on the stalk is pushed.
The second system is not a system at all - basically, driver side warning is almost non-existent. All you get is an outside mirror with a convex strip on the outer edge. Just how effective is this mirror? A car reviewer from the website ExtremeTech.com(2)  said "On the Accords I drove the convex mirror edge didn't seem to expand the view very much."
It's easy to see that Honda's unbalanced blind spot detection and lack of passive warning system simply does not compare to the Nissan Altima's state of the art Blind Spot Warning. These days driver safety seems to be a "blind spot" for Honda.
(1)  http://media.ford.com/article_display.cfm?article_id=36969] "Drivers acknowledge their limitations: Nearly 50 percent have fallen asleep while driving or know someone who has; nearly six in 10 blame blind spots for accidents or near collisions and nearly four in 10 of those surveyed fear parallel parking"
(2) http://www.extremetech.com/extreme/135716-too-quirky-5-reasons-why-honda-tech-will-scare-away-tech-savvy-buyers