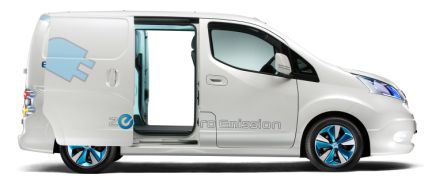 Nissan's e-NV200 concept vehicle 
       When Nissan unveiled their e-NV200 concept vehicle at the 2012 Detroit North American International Auto Show it created quite a buzz. There was so much interest in this revolutionary battery-powered commercial van that Nissan was invited to test it as a mail delivery and collection vehicle in Japan. The success of this test caught the attention of Fedex. The international carrier teamed up with Nissan to test a prototype all-electric NV as a delivery van in London, England and later in Hanover, Germany. Needless to say, these tests were very successful at proving the potential of a battery-powered commercial vehicle.
Innovative Technology + Amazing Styling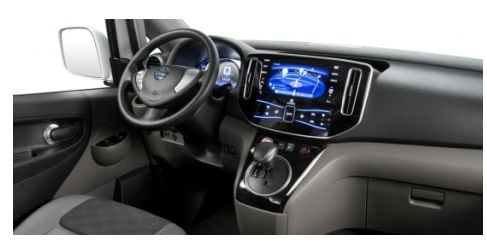 Nissan modeled their "electrifying" Nissan e-NV200 after the highly acclaimed Nissan NV200 commercial van - which won the 2010 International Van of the Year award for Nissan. The Nissan e-NV200 adds even more bold designs, and full electric capabilities-plus zero-emissions! This exciting new van is quiet, comfortable, and highly versatile with a functional interior space and compact body length. A potential game-changing vehicle in its segment, the battery capacity will support a driving range similar to the Nissan LEAF, while payload and cargo space will offer the same level as the current NV200. The production version would be targeted mainly at businesses, but also at private users.
New York City "hails" the Nissan NV200 and e-NV200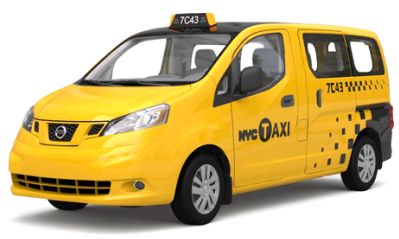 There's more exciting news for the Nissan NV line of vans. The New York City Taxi and Limousine Commission has selected the gasoline powered Nissan NV200 as the exclusivetaxi of New York City for 10 years beginning in the end of 2013. Taxis carry 600,000 passengers a day in New York City traffic, so this is a great opportunity for Nissan to show the world the reliability, safety and innovative technology of it's vehicles. The Nissan NV taxis will feature charging stations that include a 12 volt electrical outlet and 2 USB plugs for passengers to juice up their mobile electronics. And, as part of New York's "Taxi of Tomorrow" initiative, Nissan will work with City and taxi owners on a pilot program to study the zero-emission, all electric e-NV200 as taxis!
You can check back to see when this innovative Nissan vehicle becomes available at Mossy Nissan. In the meantime, you can see Mossy San Diego's giant inventory of NV Cargo Vans or NV Passenger Vans!